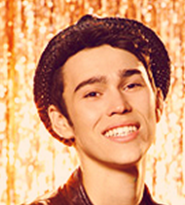 Charlie Prince is one of the main protagonists of Rags. He is an orphan who lives with his evil stepfather and stepbrothers. An unknown talent, he dreams of being a singer, as he is vocally capable and a songwriter, but can't catch a break and get someone to listen. His love interest is Kadee Worth, an international pop star. He is a janitor in Kadee's Recording Studio. Charlie is also a dancer and want to show everyone he's more than just Orphan boy. And born 1st January 1994 age eighteen
Ad blocker interference detected!
Wikia is a free-to-use site that makes money from advertising. We have a modified experience for viewers using ad blockers

Wikia is not accessible if you've made further modifications. Remove the custom ad blocker rule(s) and the page will load as expected.